Events
Events At The Mann Center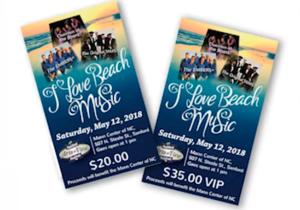 As the Community & Arts Center of Sanford and Lee County, the Mann Center of North Carolina is the host of a variety of events all year long, from festivals and concerts to community theater productions and fashion shows.
In 2018, the Mann Center became the official on-site host and primary benefactor of the Sanford Arts & Vine Series of Concerts, drawing in thousands of visitors from across the state for an outdoor show of beach music, wine and beer vendors, and a showcase of local artists. Moving forward, this signature entertainment series, produced by the Mann, allows our patrons and local residents to enjoy a full range of exceptional concerts throughout the year.
There's always something going on over at the Mann Center! Our 300-seat auditorium hosts productions almost every week, ranging from community theater and orchestras to professional shows. Check out our Events Calendar to see our upcoming events and shows. Or for more information about any event, or to book your own at Sanford's Mann Center please contact us at 919-775-5273, by email at Info@MannCenterNC.org, or fill out our online form.
Contact Us
Have a question or inquiry? Please fill out the form below and someone will be in contact shortly.