About
About The Mann Center Of NC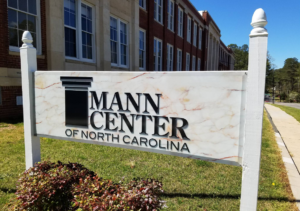 A fondly regarded school building for its first half-century of existence, the Mann Center of North Carolina now serves as the Arts and Community Center of Lee County.  Within its historic walls you'll find a 300-seat performance hall, where various community theater events and and other productions are performed; as well as over 20 offices, a conference room, and a multi-use room for parties & Events.  All of our spaces, including our auditorium, are available to rent at affordable rates.
In addition to housing quality office and meeting spaces, the Mann Center serves as the home of various noteworthy Sanford/Lee County community partner organizations.
As an engaged supporter of the community, the Mann Center is also a champion of the local art and artists of Lee County. The Mann Center is proud to serve as the home of the Sanford Brush & Palette Club.
For more information about the Mann Center or any of our resources, facilities or events, please don't hesitate to contact us at 919-775-5273 , by email at [email protected], or by filling out our online form.